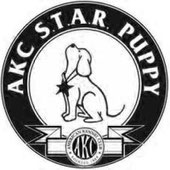 S.T.A.R. is an acronym for Socialization, Training, Activity, and a Responsible owner, all the things a puppy needs. This puppy class is open to purebred and mixed breed dogs. Enrolling in program means the puppy will be listed in the AKC S.T.A.R. Puppy records. After passing a graduation test, you will receive:
1) A gorgeous gold olympic-style medal with the AKC S.T.A.R. Puppy logo
2) A frameable AKC S.T.A.R. Puppy certificate
3) A 64-page booklet on what to expect during the first year, house training, crate training and grooming tips are just some of the many topics
4) Discount enrollment in AKC  companion animal recovery
5) Subscription to AKC's monthly email newsletter that includes training tips and other valuable information.
Classes fill quickly. Because our classes are available on a first come, first served basis, we suggest that you sign up for when you decide to take a class. For your convenience, please sign up online.