IMPORTANT: Payment must be made at the time of registration. If payment is not completed, we can not hold your spot in the class. Your registration will be removed and you will need to re-register and complete payment to be placed on the class roster. If you are having trouble with the registration & payment process, please contact us.
This course sequence is designed to help dogs and handlers reach their goals in competing in AKC/UKC scent work or nosework trials or to experience the enjoyment and challenge of searches in the scent classes.
All Scent classes are $100 for a 6 week session. Date indicates the date for the first class.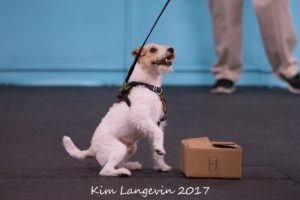 Level 1:  The introduction to scent class teaches dogs to find a specific target odor. Enjoy the wonder of your dog's scenting abilities. No previous training is required.
Level 2: Intermediate scent class. Dogs seek the target odors in containers and interior room searches. Class limited to dogs who have completed the intro to scent class.
Level 4: Advanced scent class. This class teaches all target odors in container, interior room searches, exterior searches, and automobile searches. Anyone who wants to join this class, but has not trained their dog in our classes must be evaluated by the instructor.