IMPORTANT: Payment must be made at the time of registration. If payment is not completed, we can not hold your spot in the class. Your registration will be removed and you will need to re-register and complete payment to be placed on the class roster. If you are having trouble with the registration & payment process, please contact us.
Fly what? Flyball is a sport where two teams race side-by-side over four jumps to a flyball box where the dog hits the box, catches the ball, and races back to his owner over the four jumps, where the next dog is sent relay fashion. The team that has the best time and the least amount of faults wins.
What could be more fun than running, jumping, and catching tennis balls? Sign-up for our introduction to flyball classes!
If no classes appear in the box it means there is not a class currently accepting registrations.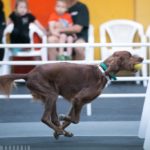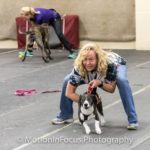 These classes train you and your dog to develop skills to enable you to learn how to run in flyball races.
Requirements: For the introduction course, dogs should be 12 months or older or have graduated from the intro to flyball class. All dogs, all breeds, and all ages can play flyball. Vaccination records must be shown when registering. Aggressive dogs will be excused.